If you are considering LASIK eye surgery and live in the Rio Grande Valley area, now is a great time to get a free screening at Gulf Coast Eye Institute. Come to our McAllen or Harlingen eye care locations to see if you are a good candidate for LASIK vision correction surgery at our McAllen vision center.
Our state-of-the-art diagnostic equipment and surgical lasers offer industry-leading vision correction that is as unique as you. Our LASIK specialists diagnose a patient's refractive error with exceptional accuracy and reshape the cornea with advanced precision to deliver the most optimal results.
Take a quick survey to see if you are a good candidate for LASIK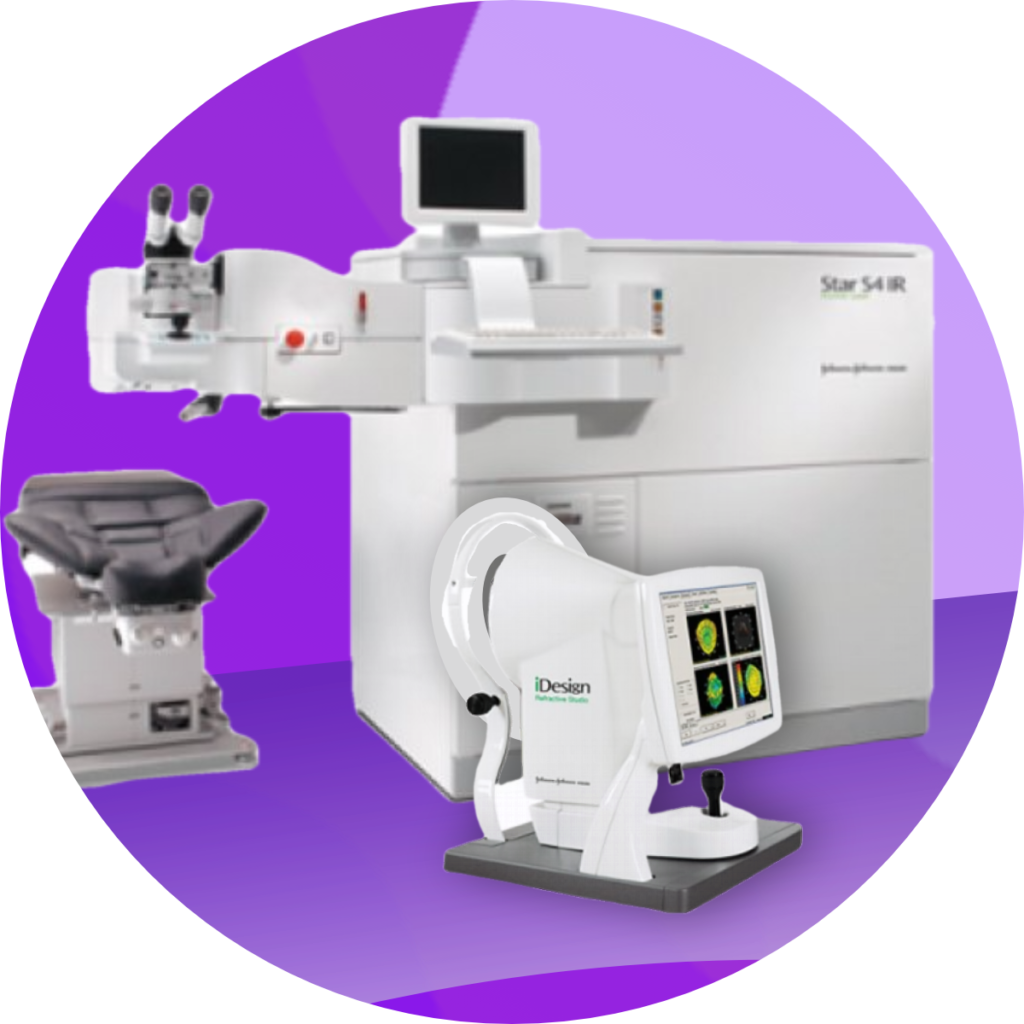 What is LASIK?
LASIK eye surgery is a safe, fast, and virtually painless option for correcting vision problems including nearsightedness, farsightedness, and astigmatism. In plain terms, the cornea of the eye is reshaped by removing tissue via lasers to achieve improved vision.
Cutting Edge Precision for a Truly Personalized LASIK Procedure
The STAR S4 IR® Excimer Laser delivers 100% customized, precise ablation using the wavefront-guided technology of the iDESIGN® Refractive Studio. Our experienced and skilled LASIK specialists map both the corneal topography and the entire optical pathway inside the eye with wavefront analysis, measuring aberrations up to the most minuscule distortions.
This advanced technology is 25 times more precise than conventional measurements, with five times the HD resolution. The more detailed the measurements, the more accurate the removal of corneal tissue for exceptional results.
What to Expect Before, During, and After
Screening and Evaluation
Candidacy is evaluated to ensure the overall safety and the best results. There are some factors that may affect the safety and/or desired outcome, including high eye pressure, signs of corneal disease, or recent changes in vision.
During the "screening" preliminary tests are run in order to rule any potential issues or concerns.
The "evaluation" is where your eyes will be dilated and looked at by your doctor to make sure there is nothing problematic that the screening did not pick up as well as collects information needed to perform the procedure.
Treatment Plan
By mapping each of your eyes, diagnosing precise refractive errors, and assessing additional factors, Gulf Coast Eye Institute's ophthalmologists will develop a uniquely targeted and individualized treatment plan. Using the wavefront-guided technology of the iDESIGN® Refractive Studio, your eyes are scanned, measured, and charted in high detail, resulting in a precise topographic map of each of your eyes.
Contact lenses can affect the shape of your cornea, so if you currently wear contacts there will be a period of time before surgery when you will be instructed to refrain from wearing them and wear glasses instead. This will return your corneas to their baseline shape before surgery.
Vision Correction in Less Than 30 Seconds Per Eye
Each eye takes less than 30 seconds, with the entire procedure from sitting down to post-surgery instruction taking less than an hour.  Numbing drops are used in the eye to increase comfort during the procedure. You may feel a sensation of pressure and some visual dimming may occur.
You will be asked to stare at a point of light to keep your eye fixed in one position during the fast procedure. Using the STAR S4 IR® Excimer Laser, the cornea is precisely reshaped in order to achieve optimal visual results. This allows for an outpatient procedure which in most cases does not require stitches.
Quick Recovery
You will be able to see immediately after the LASIK procedure, though your eyes may feel gritty, itchy, and be slightly uncomfortable while your vision continues to improve over the next several days. Blurry vision is common at first but clears up considerably in only a few hours. Most people are able to return to their daily activities – with vastly improved vision – in less than 48 hours.
There are some activities and things to avoid for a couple of weeks, including swimming, sports, excessive sun exposure, as well as prolonged use of a TV or computer.
Complete recovery is typically achieved in 7-10 days, with full results after a couple of months. A few follow-up appointments will be necessary over the course of the following six months after successful LASIK surgery to check for any complications and confirm proper healing has occurred.
Is LASIK Affordable?
Gulf Coast Eye Institute is committed to improving the vision and the lives of our patients in the Rio Grande Valley area, offering the most competitive LASIK eye surgery prices. With options for convenient monthly payments, anyone is able to consider laser eye surgery as an affordable alternative to contact lenses and glasses.
Ask us about our monthly payment plans during your free LASIK screening to learn more.
Who should not get LASIK?
Many people are perfect candidates for improving their vision with LASIK, however, there are a few conditions in which LASIK may not be the recommended solution.
For those who are still experiencing changes in their sight, including minors whose vision is apt to change, and for women who are pregnant or nursing. Dry Eye may be another factor in which LASIK may not be the best option.
Online LASIK Assessment and In-Person Screening
Is this life changing procedure the right option for you?  You can take our free online survey and provide some details to get started with an in-person screening.
You will meet with one of our friendly, knowledgeable LASIK counselors for an initial evaluation. We will conduct a few standard tests to measure current refractive error and prescription, eye pressure, corneal thickness, and corneal disease. This will ensure the safety of the procedure as well as provide a foundation for long-lasting results.