World-Class Retina Care
Welcome to the new home of the Valley Retina Institute. We provide all the same care and the same doctors you've come to love from Valley Retina Institute across our Gulf Coast Eye locations! No matter what your retinal issue is, we have experts who can guide you through treatment and recovery.
We have a department devoted to clinical research as it relates to eye conditions and innovative treatments, with special emphasis on the retina. Our dedicated research team searches out studies/trials that have notable patient benefits and help us provide exceptional care.
We are The Retina Specialists
We are continuing to build upon Dr. Victor Gonzalez's work by gathering valuable information on the retina through our clinical research department. Our extensive research on the retina and its conditions helps our team perform at the highest level of patient care. We treat all our patients with the latest research available and the newest technology in hand. Visit Gulf Coast Eye Institute today to meet with a highly experienced retina specialist.
What is The Retina?
The retina is a thin layer of nerve-dense tissue located on the backside of your eye. The main function of the retina is to convert focused light signals into images that the brain can process and recognize. In addition to light receptors and nerves, the retina also contains many small blood vessels. Many of the issues related to retinal conditions depend on whether or not these blood vessels stay intact. Damage to the retina can cause different symptoms like blurred vision, spots, flashers, or floaters to appear in your vision. If you notice any of these symptoms you should see a retina specialist immediately. Some retinal conditions can be very serious and could damage your vision permanently if not treated in a timely manner.
Common Retinal Conditions and Treatments
Many types of diseases and conditions can affect the health of your retina. Our retina specialists are prepared to treat all of them at Gulf Coast Eye Institute. One of the most important treatments for retinal conditions is to be proactive by having your eyes examined on a regular basis. Prevention of retina conditions and diseases are far easier to prevent than they are to treat.
A few common retinal conditions that commonly affect patients include:
Diabetic Eye Disease
Age-Related Macular degeneration
Retinal Tears and Detachment
Flashers and Floaters
Uveitis
These disorders can cause permanent vision loss if they are not addressed quickly. For example, a detached retina can be prevented if it is caught at the stage of a retinal tear. A retinal tear can allow fluid to enter through the tear and separate the retina from the underlying tissue. If it is not repaired, the tear can open further and potentially fall off causing a detached retina. Retinal tears are treated using cryotherapy or laser therapy as soon as we catch them.
All retinal conditions and disorders can threaten your vision. It is vital that we catch these conditions before serious retinal damage begins to affect your ability to see clearly. The best way to prevent retinal diseases is to schedule routine eye exams. Here at Gulf Coast Eye Institute, our eye care professionals will keep a watchful eye on the state of your retina to ensure that we catch any early warning signs and prevent vision altering effects of retinal diseases. We utilize the latest technologies to ensure that we offer each patient a superior level of care.
Our Retinal Expertise and State of the Art Facilities
The main job of the retina is to receive focused light from the lens, convert it into neural signals and send these signals on to the brain for visual recognition. If there is a disconnect between the retina and the optic nerve, vision may be impaired.
Victor H. Gonzalez, M.D. has been in practice since 1995. He expanded his retina practice, Valley Retina Institute, when he founded Gulf Coast Eye Institute in 2007. Today, Gulf Coast Eye Institute/Valley Retina Institute is a comprehensive eye care practice, with a focus on retinas, that has six locations, which serve the entire Rio Grande Valley region and generations of families residing there.
At Gulf Coast Eye/Valley Retina Institute, we treat a full range of retina and vitreous problems including diabetic retinopathy, age-related macular degeneration, retinal detachment and other vitreoretinal disorders.
At Gulf Coast Eye/Valley Retina Institute, we take every measure to make sure you receive the most comprehensive and effective care possible, including:
The latest in diagnostic and treatment protocol
Expertise of a board-certified ophthalmologist who is fellowship-trained in retina
Access to the latest medications and therapies, thanks to our commitment to clinical research
Why it's Worth the Wait
Our doctors are committed to innovation and technology, in particular, where there is a direct benefit to our patients. Training and education are at the heart of our culture.
There are a few reasons you may experience longer than average wait times at a retina appointment:
Dilation is required for many retina tests and takes 30-45 minutes.
Retinal Angiograms are vital in diagnosing macular degeneration and diabetic vision concerns and take about 30 minutes to administer.
Same-day testing, diagnosis and treatment are available for your convenience.
We see eye emergencies, in such cases, we provide priority care without an appointment, which can affect patient scheduling.
Our doctors are on call 24/7, for virtually all area hospitals for urgent patient issues.
If you would like to schedule a routine eye exam or would like to meet with one of our retina specialists, schedule an appointment today.
Understanding The Retina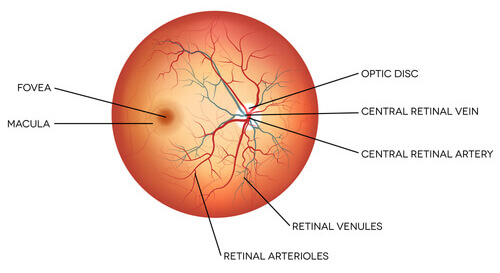 You've heard it before: Your eyes are the window to your soul—and also to your health. The eye is a delicate organ and vision is a dynamic process involving many moving parts.
The main component is the retina, an amazing and complex structure in the eye. The retina is a heavy lifter where vision function is concerned. It is the nerve-rich, light-sensing area in the back of the eye that is crucial for sight.
The retina is a little like wallpaper at the back of the eye and is covered with many small blood vessels. Many of the issues related to vision conditions depend on whether or not these blood vessels leak.
The retina's main job is to receive focused light from the lens, convert it into neural signals and send these signals on to the brain for visual recognition.
As people age, they may begin to experience retina conditions that affect their ability to see clearly. Whether it's blurred vision, blind spots and shadows, or flashers and floaters that bother you, there is no time to wait until it worsens. It is time to consult with a retina specialist at Gulf Coast Eye/Valley Retina Institute.
What are Retinal Tears and Retinal Detachment?
The inside of the back of the eye is filled with a jelly-like substance—the vitreous—which is attached to the retina. A tear in the retina is very concerning as it can allow fluid to enter through the tear and separate the retina from underlying tissue. Remember how we said the retina is like wallpaper at the back of your eye? If the tear is not repaired, moisture from the eye can get behind it and eventually begin to peel off and fall off (detachment).
Retinal tears can be repaired effectively through a non-invasive, in-office procedure at Gulf Coast Eye/Valley Retina Institute. Cryotherapy (cold/freeze therapy) or laser therapy can be used to seal retinal tears. In cold treatment, a probe is placed on the outside surface of the eye directly over the retinal tear. With laser, beams are directed into the eye and zoom in on the area of the retinal tear. Both methods report great success in treatment. Prompt evaluation can be a vision-saving difference between a retina tear and full detachment.
What Are Flashes And Floaters?
Flashes and floaters are caused by clumps of undissolved, vitreous gel material floating in the back of the eye. This ends up casting shadows on the retina when light enters the eye. With floaters you see a speck in your vision that moves when you look around, top to bottom or side to side. Flashes occur when the vitreous gel rubs against the retina or pulls on it. Flashes of light in your vision is often described as "seeing stars."
Most flashes and floaters are not a problem, generally harmless and require no treatment. But, flashes and floaters can be symptoms of a torn or detached retina that has pulled away from the back of the eye.
You should have a comprehensive eye exam with an expert at Gulf Coast Eye/Valley Retina Institute if you notice new floaters or more flashes in your vision and to make sure there has been no damage to your retina.
What Is Uveitis?
Uveitis is an inflammation that occurs in the middle layer of the eye (the uvea), causing redness, pain, blurred vision and light sensitivity. Uveitis is rare, with fewer than 200,000 cases reported per year in the U.S. But it can be serious, leading to permanent vision loss.
Early diagnosis and treatment are important to prevent complications of uveitis. The common treatment is eye drops to ease inflammation. If uveitis is the result of an infection, your ophthalmologist may prescribe antibiotics or antiviral medication.