What is Diabetic Retinopathy?
Retinopathy is an impairment of the retina—the nerve-rich, light-sensing area in the back of the eye that is crucial for sight. Diabetic retinopathy causes blurred and distorted eyesight, and it can even lead to blindness.
One of the complications of diabetes is the weakening of tiny blood vessels that nourish the retina. Fluid and blood leak from the weakened vessels. New vessels that grow can be distorted and then bleed. These vessels can injure the retina, leading to loss of vision.
Diabetic retinopathy typically develops without any warning signs. The damage to the eye can occur slowly and may go unnoticed until there is significant damage.
DIABETIC RETINOPATHY IS HARD TO DETECT WITHOUT REGULAR AND PRECISE MONITORING BY YOUR RETINA SPECIALIST. EARLY DETECTION OF THIS DISEASE CAN SAVE YOUR VISION!
Diagnosing Diabetic Retinopathy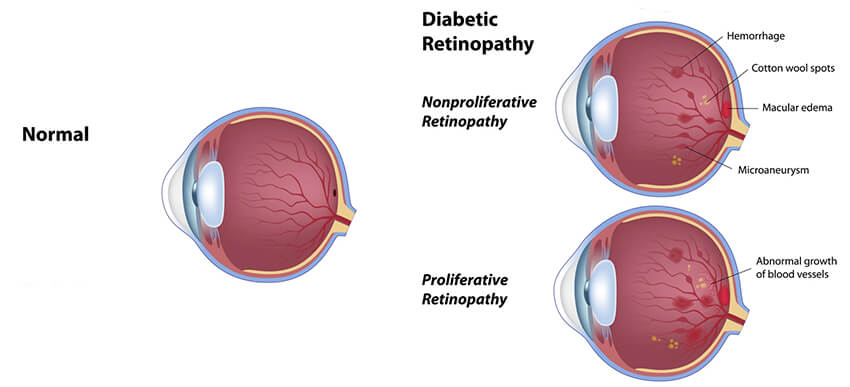 To diagnose diabetic retinopathy, your Gulf Coast Eye/Valley Retina Institute retina specialist will first ask about your diabetes. Why? Studies show if patients with diabetic retinopathy are treated properly before the retina is severely damaged, they will have an excellent chance of stabilizing the disease and stopping its progress. So if you have diabetes, you should have a comprehensive eye exam at Gulf Coast Eye Institute at least once a year.
During a complete eye exam, your Gulf Coast Eye Institute physician will examine the interior of your eye using the latest diagnostic tools. Photos of the interior of the eye may also be taken.
If there is evidence of blood vessel damage, a special exam called a retinal (fluorescein) angiography will be conducted. During this test, dye will be injected in your arm and photos will be taken as the dye passes through the blood vessels in your retina. This will allow your retina specialist to identify any blood vessels that may be leaking and to determine how best to correct the problem.
Treating Diabetic Retinopathy
Each Gulf Coast Eye/Valley Retina Institute patient's treatment plan is individually customized based on their medical history, age, lifestyle and degree of damage to the retina.
In its earliest stages, no treatment may be required for diabetic retinopathy except regular monitoring by your retina specialist.
If treatment is required, your Gulf Coast Eye/Valley Retina Institute surgeon will use laser surgery to seal or shrink the leaking blood vessels in a process called photocoagulation.
Steps To Prevent Vision Loss
If you've been diagnosed with diabetic retinopathy, managing your diabetes is the most important step you can take to prevent further progression of the condition.
This means:
Monitoring and controlling blood sugar levels
Keeping blood pressure in a healthy range
Eating nutritious foods
Exercising
Taking all medications as prescribed
Remember, even if you don't notice vision changes, scheduling regular eye check-ups is essential for every person with diabetes.
What About Diabetic Macular Edema?
Chronic high levels of blood sugar caused by diabetes can damage the tiny blood vessels in the macula, a small area in the center of the retina that is critical to sharp vision. As the blood vessels weaken, they leak fluid—causing swelling known as macular edema.
Standard treatment for macular edema includes laser therapy and corticosteroid eye drops or injections. Laser therapy seals off the leaking blood vessels, while corticosteroid medication reduces inflammation and prevents further damage to the retina.